Smart City Expo World Congress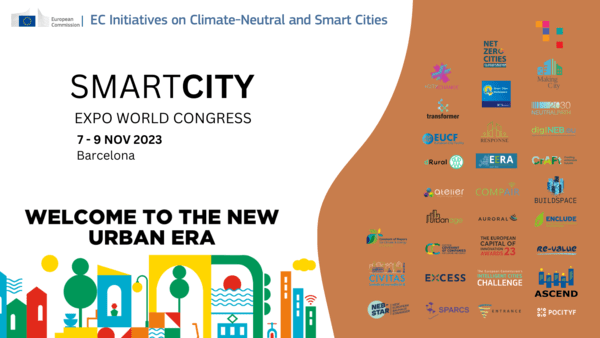 For the participation in the Smart City Expo World Congress on 7-9 November, and under the banner of "EC Initiatives on Climate-Neutral and Smart Cities," the European Commission has initiated a collective presence of approximately 30 partners comprised initiatives, projects, and DGs (Directorate-Generals), united by a common goal: to accelerate the implementation of sustainable urban solutions in alignment with the EU Green Deal and REPowerEU plan at local level.
Re-Value is one of the 30 partners joining the joint European stand at the Smart City Expo World Congress in Barcelona. 
Overall, the partners represent a diverse range of areas and backgrounds, spanning from support services for the EU Green Deal acceleration to Positive Energy in Districts and Buildings and the New European Bauhaus to Digitalisation for a Greener Future. Together, they form a dynamic network poised to address pressing urban challenges and share innovative solutions.
The joint presence will encompass a series of engaging activities at the congress:
Congress & Agora Sessions: Thought-provoking sessions will address pertinent EC policies and cross-cutting topics, focusing on the scalability of solutions across cities.

Stand Representation: The EC Initiatives on Climate-Neutral and Smart Cities will feature an interactive program with sessions organised by participating projects and initiatives. These sessions will complement the themes discussed in the agora sessions and highlight on-the-ground work.

Networking Spaces: Partners will have the opportunity to interact with visitors, showcasing their projects and services while promoting collaborative efforts.
The list of collaborating partners includes, for example, the Smart Cities Marketplace, Scalable Cities Secretariat, the Covenant of Mayors Europe, CrAFt, and many more. This vibrant collaboration aims to foster a European movement for sustainable urban solutions, ultimately contributing to the realisation of a greener and more resilient future.
Tentatively, Re-Value is also expected to join one of the larger sessions in the Conference itself. Details of this will be made available as soon as possible. 
You can learn more about the event and the joint EU participation here.
You can also learn more about the Congress session "NEB Alliance: Beautiful and inclusive transitions to resilient, climate-neutral cities and communities, driven by radical collaboration" with Re-Value participation here.

The sole responsibility for the content of this website lies with the project and in no way reflects the views of the European Union.
---