Re-Value Capacity Development and Exchange Programme, Version 1
The Re-Value Capacity Development and Exchange Programme (Re-Value CD&E Programme) is a three-year programme designed to support the nine Re-Value Cities - Ålesund (Norway), Bruges (Belgium), Burgas (Bulgaria), Cascais (Portugal), Constanța (Romania), İzmir (Türkiye), Písek (Czechia), Rijeka (Croatia) and Rimini (Italy) - in their efforts to meet ambitious European climate neutrality goals, as they test and embed collaborative urban design and planning approaches through a series of Innovation Cycles. 
The CD&E Programme aims to support the cities' capacity to design, initiate and implement change within and across multiple complex urban systems in their Waterfront Pilots by strengthening collaboration between city administrations, urban stakeholders, and citizens. It also aims to identify integrated urban planning and design approaches that accelerate climate neutrality objectives while embracing New European Bauhaus (NEB) principles, and to help cities identify the contribution of these approaches to address systemic challenges and embed them in local/regional regulatory frameworks.
These goals help define the Programme's scope, which will use a Community of Practice (CoP) approach to build on the common "practices" of the Re-Value Cities and their partners, and focus on six Systemic Challenges addressed in the Re-Value Waterfront Pilots: systemic changes in governance, regulatory structures, advocacy; cultural and spatial quality; financial and circular value chains; data-driven co-creation; energy and mobility; and nature-based solutions.
The programme adopts a three-pronged approach that focuses on learning, reflexivity and motivation, in alignment with the proposition that the goal of capacity development is to enable, as well as drive, systemic change towards sustainability. To support the learning, reflexivity and motivation tracks of the CD&E Programme, a series of structured modules were co-designed with the CoP for the first Programme Year. These include (1) the Re-Value Rounds, monthly online opportunities for cities to both exchange best practices on the systemic challenges in a variety of formats (roundtables, panels, fish bowls, etc.), and to receive input from the wider CoP; (2) curated Re-Value Study Visits to each city; (3) Peer Reviews for each Re-Value Replication Roadmap; and (4) opportunities for spontaneous interaction among CoP members via their dedicated peer-to-peer space on the NetZeroCities Portal, which is equipped with conversational and collaborative technology, connected directly to the Cities Mission network. 
The Re-Value CD&E Programme will run for three years (2023-2026) over six semesters, and will be iterated through a yearly monitoring and evaluation process in collaboration with the CoP.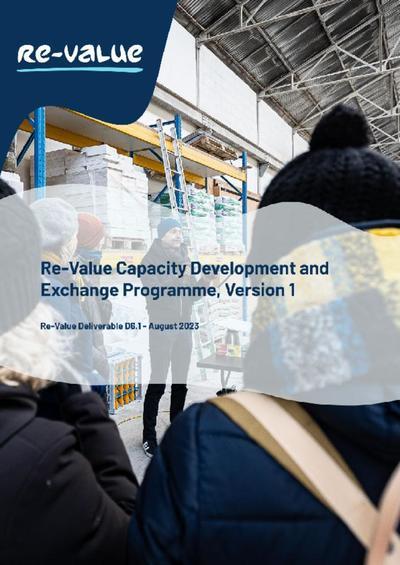 The sole responsibility for the content of this website lies with the project and in no way reflects the views of the European Union.
---